"License to Seat": Does Bill Gates know about this?
We've run into
Steve Mann
before, when he was exploring the implications of video cameras on our privacy at MIT. (We were looking into the
Open Network
, our still-only-half-baked scheme for promoting a collective intelligence.)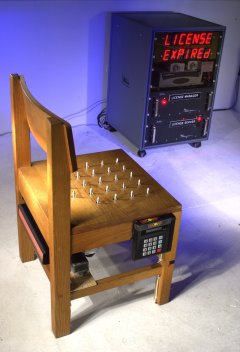 Steve
, now a professor at the University of Toronto, has produced a conceptual art piece called
License to Seat
. It's an "Internet chair" with spikes that retract when a user produces a "seating license". The exhibit sports a card reader and a rack-mounted "license server" that warns when seating time is about to expire. The text on an LED sign mounted to the back of the chair reads:
WEARY TRAVELLERS NO LONGER NEED TO STAND FOR HOURS ON END... USE YOUR GOVERNMENT ISSUED PHOTO ID CARD TO DOWNLOAD A FREE SEATING LICENSE.
The exhibit's
Web site
has lots of interesting pictures and cool videos. Steve is making a point about companies who track us and bill us for the use of software and other household goods.
Steve Mann as pictured on the
original Landmark Web site
, circa 1995. He has written a
book
-- and claims to be the inventor of -- wearable computers.
More on Steve Mann and his book, Cyborg.